Quick Tender Casinos
Benefits
Getting Started
Withdrawals
Quick Tender Bonuses
Getting Started with Quick Tender
So, you are ready to hit the casinos and want to get your Quick Tender account set up? Great! Let's get started.

The first and most important thing to know about setting up your Quick Tender account is that you need an invitation to get started. This may sound confusing, but obtaining an invitation is quite simple really. If you have been to the Quick Tender website already, you will see that they refer you to your merchant for an invitation. In your case, the merchant is the online casino of your choice. So, your first step is to click on any of the online casinos listed on this site.




The online casino will require that you set up a player account, simply follow their registration steps. Once you are logged in to your player account with the casino, go to the banking section and look for the Quick Tender or UseMyWallet logo. Select this option and then the casino will send you an invitation for Quick Tender in your email.

The invitation should be in your email fairly quickly. Once you receive it, all you need to do is follow the steps outlined by Quick Tender to set up your account with them. This will include a couple of basic forms and some ID verification.

And that's it! Simply make a deposit to your Quick Tender account and return to the online casino of your choice to start depositing with your Quick Tender account.



• • • • •




Click here to sign up with Quick Tender at one of our favorite online casinos!




Featured Casinos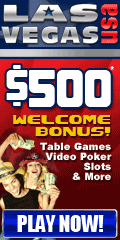 Manhattan Slots
Lucky Red Casino